Before I get started on this, I'm not saying your dream body has to conform to supermodel standards, nor do you have to be toned and muscular. Your dream body is wherever you feel comfortable and these resources will help you to get there regardless of whether you want to become a lingerie model or just want to be able to move better and more often.
This is, without a doubt, my favourite fitness site. It's a big advocate of the paleo diet and tells everyone to lift heavy. That's what I like to hear.
Not only is it about getting fit but it's about teaching you to be the best you can be. Don't look at other people, just do your best. That's definitely something everyone should pay attention to.
If you want to hear the fitness exploits of someone like you then this the blog you need to read. Gemma runs the popular fashion blog Retro Chick (okay, so she might be more fashionable than you) but decided to start Lipstick, Lettuce & Lycra to document her fitness and weight loss.
It's interesting and helpful because it's real. She, like everyone else, slips up sometimes but she's still awesome and she's still fierce.
A little shameless promotion here as this is my blog. However, I often post here a bit about my own fitness journey. Again, it's real. It's not just about my achievements but also my off days, my struggles and the bigger picture.
I've read the 4-hour Work Week by Tim Ferriss and it changed the way I looked at my business. Although, I've never read this book, the website and blog are great resources for simplifying your eating habits and exercise regime.
Want to turn your fitness into a game? In Fitocracy you earn points, level up, accept quests and take part in challenges. It gets you lifting heavier, moving more and working harder because those extra few kg/minutes might get you to the next level.
This is where competing against yourself really becomes fun. Look at your personal bests then smash them.
Food is 80% of weight loss. You can't out train a bad diet. So if you want to lose weight, get your diet under control. However, even if you're not trying to lose weight. If you want to build muscle, burn fat, tone up, whatever, you need to eat right.
Start thinking of food as fuel. It will give you the energy to workout and it helps to repair muscles.
PaleOMG is an amazing resource for those of you looking to eat better. We are big fans of the paleo way of life here at The Pleasure Forecast!
Jillian Michaels is hugely inspirational to me but I am aware that she annoys a lot of people. I think that's because most people's experience of her is on The Biggest Loser where all she does is shout at people.
Try listening to her podcast. Not only does she give great advice when it comes to getting fit but she's also very good at helping you to get your head in the right place too.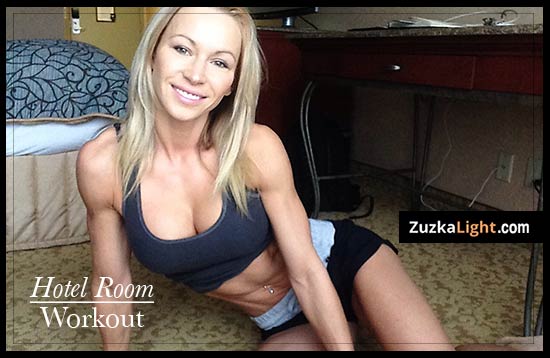 YouTube videos that will have you sweating in a heap after five minutes. If you are stuck for time then these are the videos for you. However, you need to be willing to work your hardest during these workouts to get the most benefit.
For those of you a little wary of high intensity workouts, there are some slower-paced videos on this channel.
Try one, embrace it, do your best. You'll probably find that next month it'll all be too easy!
If you're going to read a magazine about health, fitness and weight loss, then this is the one. They know what they are talking about without assuming that everyone wants to be a size eight. Fitness and health come before weight/fat loss and it's a much better way to approach a healthier lifestyle.
Ladies and gents, this is a great resource. It can be a little over the top sometimes but the website is good if you want quick workouts or a little bit of inspiration.
For girls that lift, here is a blog that shows you how it's done.
The owner of this blog is truly inspiration. One day she was invited to do a half marathon so she started training. Now she's running all over the place, inspiring people everywhere and even cycling up stupid hills.
The blog features beautiful shoes, fitness inspiration, tales from real people and reviews of fitness classes.
Run by the same wonderful lady as Spikes and Heels. A lot of her fitness stuff used to be here but it's all moved over to the dedicated fitness blog. However, Bangs and a Bun features fashion inspiration, general motivation and some hilarious Bang Goes Rap videos.
A video blogger I've recently come across. She's toned, knowledgeable and so cute! Her videos are high energy and easy watch. Follow her challenges, watch videos about food and generally feel inspired.
This perhaps won't get you your dream body but it will get you well on your way if you are new to exercise. The thing that puts a lot of people off working out is that they find it boring.
Geocaching gets you outside and walking (sometimes climbing too). It's essentially one big treasure hunt around the world to find geocaches using your phone's GPS (or a dedicated GPS unit!).
My favourite thing of the fitness world. It's a mobile phone app that plays a story to you while you run. You're a runner after the apocalypse, you have to go and get supplies, protect your town and generally avoid the undead. It's amazing. Certainly gets you running.
Rose and I visited Team Bootcamp earlier this year and it was amazing. As it turns out, they have an amazing blog too. It's full of information on their ethos as well as tips, tricks and general inspiration.
Do you have anything to add? Let us know in the comments.